MM UNIVERSITY- SADOPUR (AMBALA) HOLDS ANNUAL CONVOCATION-2016 ON 23rdAPRIL, 2016
Maharishi Markandeswar University Sadopur (Ambala) held the Annual Convocation 2016 on 23rd April, 2016 in the University auditorium inwhich 158 B.Tech degrees, 74 Master Degrees and 12 gold medals were awarded to meritorious students. Prof. Dr. R. K. Sinha, Director CSIR- Central Scientific Instruments Organisation, Chandigarh was the Chief Guest. Dr. Sinha is a renowned scholar and authority in the field of Fibre Optics and Optical Communication Technology and has been awarded fellowship by the universities of USA, UK, Japan, Switzerland, Italy etc. Dr. Tarsem Garg,ChancellorMM University,presided over the function.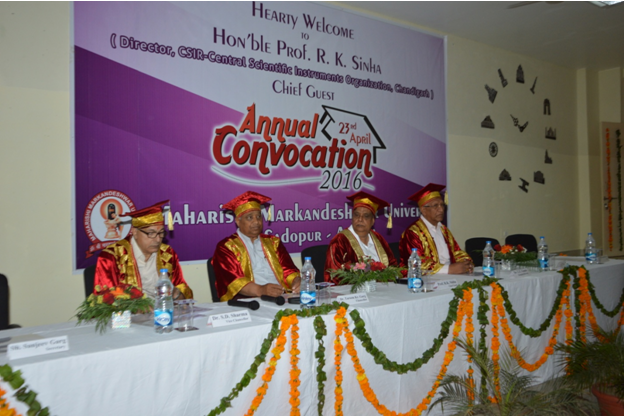 The Programme began with Saraswati Vandana and lighting of the lamp by the dignitaries to invoke the blessings of Goddess Saraswati. Dr. S. D. Sharma welcomed and introduced the Chief Guest and presented the report of Maharishi Markandeswar University Sadopur (Ambala).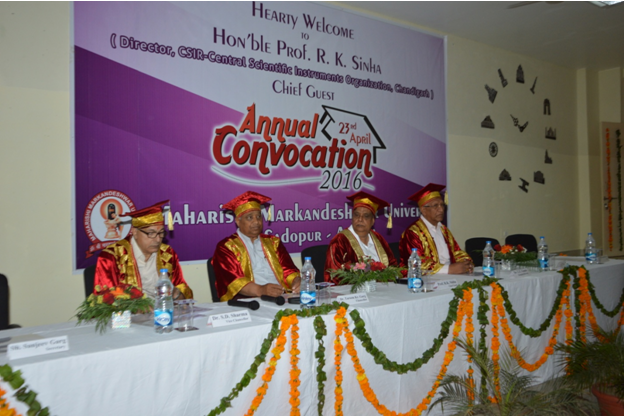 Thereafter the Chief Guest presented degrees to the successful candidates and congratulated them. In his convocation address, the chief guest lauded the efforts of Dr. Tarsem Garg in the field of professional education and making Haryana an educational hub of North India and that too without sacrificing excellence. While congratulating the graduates and post graduates, the chief guest cautioned them of the dangers they would meet in their future life and how globalisation and liberalisation have turned the whole world into a global village and the post modernist tendencies have fragmented the traditional values. He also warned of the dangers on account of terrorism, extremism, global warming and how economic meltdown has taken away jobs from thousands of young men and women. He however advised them not to feel disheartened and helpless but to go ahead and follow Swami Vivekanand's ideal to carry on till we reach the promised land. He exhorted them to follow the path of truth because as per the teachings of Maharishi Markandeswar.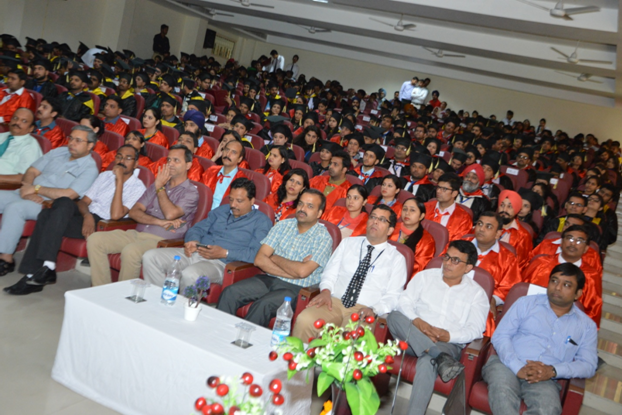 Honourable Chancellor, Dr. Tarsem Garg presented gold medals to the meritorious students. The convocation ceremony ended with the singing of National Anthem. After that the ex-students held the Alumni Meet in which about 200 students participated. They exchanged their experiences and commemorated the memories of the old days spent together here at the university.