DEPARTMENTAL SOCIETY OF ECE "TECHNOTRONS" ORGANIZED AVALANCHE'16 - THE ANNUAL TECHNICAL FEST OF DEPARTMENT ON 12th APRIL, 2016
Taking the baton of the annual technical fest forward, TECHNOTRONS, the society of Electronics and Communication Engineering Department organized AVALANCHE'16 on 12th April 2016 at Maharishi Markandeshwar University, Sadopur (Ambala). It was organized to provide a platform of technical events for all the students of B.Tech (ECE) and comprised of two events: PRO-TUDE and E-VOKE.
PRO-TUDE was a technical project making competition that was divided into three groups as per the level of competencies. The winners and runner-ups of PRO-TUDE were:
GROUP

WINNERS

RUNNER-UPS

NAME

CLASS

NAME

CLASS

I

RAMPANKAJ

B.Tech 4th Semester

SURAJ

B.Tech 4th Semester

II

AKASH

B.Tech 6th Semester

JYOTSANA

B.Tech 6th Semester

III

ARUN

B.Tech 8th Semester

SONAKSHI

B.Tech 8th Semester
E-VOKE was a picture perception based-technical quiz competition in which 6 teams competed against each other, namely, VOLT, AMPERE, WATT, FARAD, OHM and HERTZ. After the first round of the competition two teams were eliminated, leaving only four teams to compete for the next two rounds. The winners and runner-ups of E-VOKE were:
WINNER

RUNNER-UPS

TEAM

NAME

CLASS

TEAM

NAME

CLASS

WATT

ARTI SINGH

8TH ECE

AMPHERE

SONAKSHI

8TH SEM

VIPENDER

6TH SEM

JYOTSANA

6TH SEM

FAISAL

4TH SEM

SUMIT SEHGAL

4TH SEM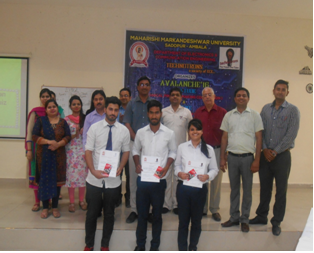 The department of ECE always endeavors to inculcate technical proficiency as well as interpersonal skills among the students by conducting myriad of technical activities. Evidently, the events at AVALANCHE'16 also marked the dynamic participation of the students of ECE. Dr. Manpreet Singh (Principal MMGI), the Chief Guest of the fest and Prof. Parveen Bajaj, Head of the ECE Department congratulated all the participants for their dexterity and enthusiastic dynamism. They also felicitated all the winners & runner-ups with Pen-Drives of 8Gb memory along with certificates. The event concluded with a vote of thanks by Dr. Ravinder Khanna, Professor of ECE department.