MM UNIVERSITY ORGANIZED WORKSHOP ON LIFE SKILLS ON 14th -16th MARCH, 2016
Maharishi Markandeshwar University, Sadopur (Ambala) organized a Three Day Workshop on "Life Skills"in association with RGNIYD (Rajiv Gandhi National Institute of Youth Development) and Ministry of Youth Affairs and Sports from 14th March, 2016 to 16th March, 2016. Sixty students of different courses and years from University campus participated in the event. The programme aims at improving the productivity of the youth through sessions on different themes that includes Education and Employability/Skill Development, Personality Development, Soft Skills/Life Skills/Social/Cultural Skills, Leadership and Managerial Skills, Workplace Skills, Gender sensitization, Social behavior, Value education and many more.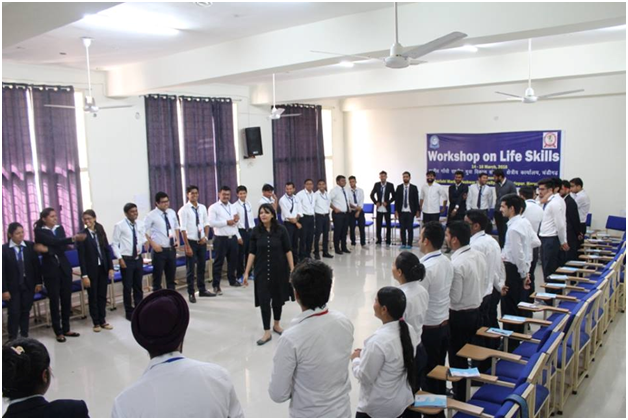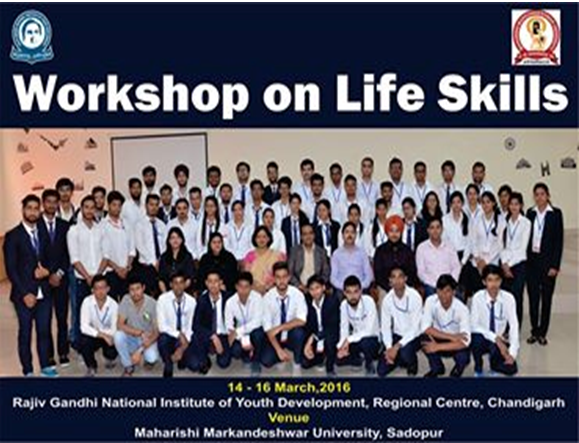 The resource person Ms. Akanksha Sharma from RGNIYD inaugurated the programme by highlighting the importance of life skills and social values in one's life. The programme also witnessed some very interactive sessions on positive attitude, effective communication, understanding self, leadership, decision making skills, time management by experts from different operational fields. Ms. Akanksha Sharma also kept students engaged in various group activities which promoted the sense of teamwork and ownership among the students. All the sessions conducted during the course of the workshop were outstanding, interesting & very informative. Participants enjoyed spellbound.
It is worthwhile to mention here that besides providing many campus placement opportunities, the Centralized Training and Placement Division of the University group is putting up its concerted efforts for soft skills training and development of the students so as to enhance their employability skills. From the feedback of the participants, we are assured that the learning outcomes have been very well taken by the participants & would be implemented by them which would fetch results as desired.